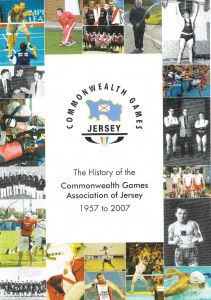 Early in 1957, leading representatives of three sports; E.W. Groizard – Weightlifting, L.Austin – Lawn Bowls, and K. Webb – Athletics, simultaneously and independently applied to the British Empire and Commonwealth Games Federation asking for information regarding the possibility of their sport competing in the Empire Games of 1958. All three received letters asking them to contact each other, as the Federation could only accept one affiliation and a Jersey Association consisting of three sports, would have to be formed. After consultation, the matter was left in the hands of Mr. K. Webb to see if he could arrange for the formation of a Jersey Association. On being approached by Mr. Webb, Senator George Troy expressed a willingness to take the chair. Circulars were then sent out to representatives of all nine sports catered for in the Games being Athletics. Boxing, Cycling, Fencing, Lawn Bowls, Rowing, Swimming, Weightlifting and Wrestling.
On 23rd October 1957 a Jersey Association was formed. Senator Troy was elected President and Mr. K. Webb, Honorary Secretary, the remaining officers to be elected at a further meeting.
Mr. P.H. Beveridge was subsequently elected Chairman, Mr. E.R. Holmes, Vice Chairman and Mr. L. Austin, Honorary Treasurer. The Council of the Association was to consist of these officers and two representatives from each of the nine sports who affiliated to the Association. As Rowing, Fencing, and Wrestling were not on an official basis in the Island, these three sports dropped out, leaving the remaining six in affiliation. Our application for affiliation to the Federation was unanimously accepted and an official invitation to compete in the Games was received from Cardiff. Jersey was on it's way. Read more…
Jersey has gone from strength to strength and in 2007 our former President Alan Cross produced a booklet cataloging the development of the Jersey Associations and details of it's participation in the Games since 1958. Copies of the booklet are available from the Secretary General but if you wish to view on-line click here.