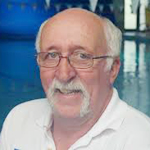 Paul du Feu – President
I'm honoured to be President of the Jersey CGA. I first got involved in Jersey's games' administration in the early 80s and coached 2 swimmers who travelled to the Brisbane games in 1982. I attended my first games as a swimming coach in 1986. Since then I've been involved in some way or another all the way through to today.
As a member of the officers' group I'm aware that the Games Movement needs to adapt and evolve to survive in today's busy programme of high profile sports' events. I feel passionately that the JERSEY team also need to be TOTALLY COMMITED to their sport showing COURAGE, striving for EXCELLENCE and going the extra mile to perform at a very high level.
As President I hope we can SUPPORT those we identify with that PASSION and see them through to a successful and enjoyable games experience.
President – Paul du Feu (email: paul.dufeu@cgaj.org)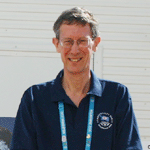 Paul Huddlestone – Honorary Secretary
Paul is a keen lover of all sports. In his earlier years he played football and cricket extensively, which kept him very active. As his football days diminished he took up long distance running when working in Nassau in The Bahamas and has now completed 35 marathons in a number of different countries. Paul came to Jersey in the mid-eighties and when his family became involved in swimming Paul became involved in the administration side of the sport, first as Treasurer, then President of JASA. He has since now become Treasurer of JAA after undertaking a long spell as Treasurer of Jersey Spartan Athletics Club. Paul's first involvement with CGAJ was as Attache for the Manchester Games and then he became Treasurer in 2003. He has now also fulfilled the roles of General Team Manager at the Melbourne Games, the Youth Games of Bendigo Australia, Pune India, Isle of Man and Samoa and Chef de Mission at the Delhi and Glasgow Games. Paul has now taken on the role of Secretary General of CGAJ.
Honorary Secretary – Paul Huddlestone (email: paul.huddlestone@cgaj.org)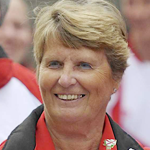 Morag Obarska – Vice President & General Team Manager Gold Coast 2018
Morag has worked as the Senior Sports Physiotherapist at JGH since 1977 where she treats many of the Islands' athletes. She has been involved in a great variety of sports both playing and as a physiotherapist. She has served on several sports committees including the Island Games Association. Her direct involvement with the Commonwealth Games Association started 2007 and she attended the Melbourne, Delhi and Glasgow Games as the team physiotherapist. She has recently been appointed as Vice President of the CGAJ and is looking forward to a more administrative role at future games.
Vice President – Morag Obarska (email: morag.obarska@cgaj.org)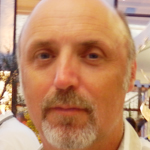 Gary Jones – Chef de Mission
Gary has been involved in the Commonwealth Games Association of Jersey for a number of years. Gary attended both the 2002 and 2006 Commonwealth Games as manager of the Triathlon team. During this time Gary was also President of the Jersey Triathlon Club and was a member of the Island Games Association of Jersey, where he was the General Team Manager for 2005 NatWest Island Games, although did not attend due to illness. Gary was also team manager for the Great Britain Age-Group Team at both the 2007 and 2008 European Duathlon Championships. Gary also managed the Jersey Rowing team at the 2009 World Coastal Rowing Championships held in Plymouth.
In 2015 Gary was elected as the Athelete's Representative on the CGAJ Executive Committee.
Athlete Representative Officer – Gary Jones (email: gary.jones@cgaj.org)