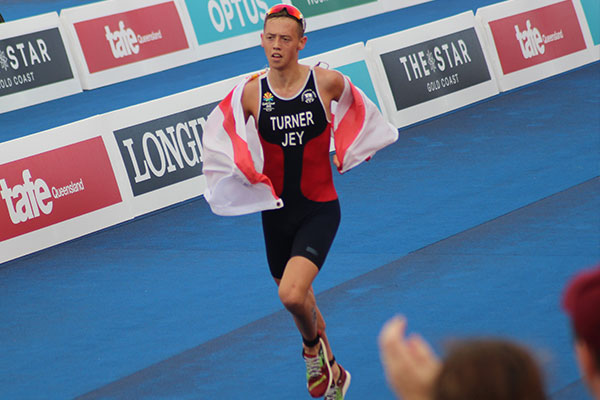 The Commonwealth Games Association of Jersey (CGAJ) has named the first 16 athletes that will represent the Island at Birmingham 2022.
The CGAJ Validation sub-committee met this week to review the applications that had been put forward by local sports governing bodies, asking for their members to be considered for selection.
Six sports (athletics, swimming, gymnastics, triathlon, cycling and lawn bowls) submitted their athletes' results and achievements in the first qualification phase of the Continuum Performance Pathway.
Lawn Bowls
A squad of five bowlers has been selected:
Derek Boswell – First competed in 2006, this will be his fourth Games
Malcolm de Sousa – Competing in his fourth consecutive Games
Ross Davis – Competed at Gold Coast 2018
Greg Davis – Competing in his second Games
Scott Ruderham – Debutant
It is not yet decided which players will compete in which events but the line-up will cover all four events: singles, pairs, triples and fours.
Cycling
Four cyclists have been selected to date:
Rhys Pilley – Chosen for the 4K on the indoor track, this will be only the second time Jersey has fielded a male track cyclist. Rhys, now based in Wales, competed in the Youth Commonwealth Games in the Bahamas.
Rhys Hidrio – Competed at Gold Coast 2018 in the mountain biking
Jack Rebours – Competed in the Time Trial at the 2018 Games
Dean Robson – Debutant, competing in the Time Trial.
Athletics
Discus siblings Zane Duquemin (fourth Games) and Shadine Duquemin (second Games) have both secured their places after their performances in 2021.
Triathlon
Triathlete Ollie Turner returns to the squad after an excellent past twelve months.
Swimming
Swimming put forward their two team members from 2018 – Harry Shalamon and Gemma Atherley – who have secured selection having both spent much of the interim in the USA. Shalamon (now at Loughborough University) and Atherley, plus another former youth team member Robbie Jones have managed to find competitions despite the challenges thrown on them in the past 18 months and can now build their programmes to peak next July.
Gymnastics
Daniel Lee will be back representing Jersey in the men's gymnastics. Dan is training in London and will look to build on his Commonwealth Games debut from 2018.
The CGAJ has 30 open allocation slots available for Birmingham 2022, so today's announcement leaves 14 places open to the athletes still on the senior pathway or the new development pathway.
Table tennis has been deemed internationally as a "qualification sport" and therefore Jersey's table tennis players have to follow a different pathway to reach the Games.
Continuum Pathway performance manager Paul du Feu said: "We're working closely with the Jersey Table Tennis Association and the Federation to understand how this is going to work, with the problems and challenges around the 72 nations and territories that make up the Games. We've made our concerns clear and will strive to ensure our players get a fair chance of selection.
"I warmly congratulate the 16 athletes that have so far been selected to represent Jersey. With 12 having been to a senior Games at least once, two having worked with us at a Youth Games and two new faces, we feel Jersey has the foundation of an excellent team for 2022.
"We look forward to receiving the next tranche of nominations from our sports as we continue to build towards next summer's Games. We must also thank our Performance Pathway sponsors Continuum for their ongoing support."