Officers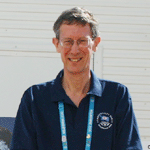 Paul Huddlestone – President
Paul is a keen lover of all sports. In his earlier years he played football and cricket extensively, which kept him very active. As his football days diminished he took up long distance running when working in Nassau in The Bahamas and has now completed 35 marathons in a number of different countries. Paul came to Jersey in the mid-eighties and when his family became involved in swimming Paul became involved in the administration side of the sport, first as Treasurer, then President of JASA. He has since now become Treasurer of JAA after undertaking a long spell as Treasurer of Jersey Spartan Athletics Club. Paul's first involvement with CGAJ was as Attache for the Manchester Games and then he became Treasurer in 2003. He has now also fulfilled the roles of General Team Manager at the Melbourne Games, the Youth Games of Bendigo Australia, Pune India, Isle of Man and Samoa and Chef de Mission at the Delhi and Glasgow Games. Paul has now taken on the role of Secretary General of CGAJ.
Graham Huelin – Secretary General
Beth Quinn – Treasurer
Jean Cross – Vice President
Jean first became involved with the Commonwealth Association of Jersey through her role as President of the Jersey Badminton Association and was asked to be Chef de Mission for the 2018 Games on the Gold Coast in late 2017. She has attended every Games since then in a management role, and became Vice President of the CGAJ in 2018. Jean has represented Jersey in five different sports at inter-island or county level, and competed in the first two Island Games. She has been involved in sport as a competitor, administrator or spectator for as long as she can remember.
Fintan Kennedy – Vice President & Pathway Manager
Peter Irving – Athletes Representative Officer
Peter manages the Jersey Sport Foundation Performance Programme which involves providing technical support to Jersey's top level athletes. Peter also enjoys working within the other areas of the Foundation, particularly Physical Literacy, Talent Development and Coach Education.
Prior to working for the JSF, Peter spent 8 years working within the States of Jersey Children's Service working within the residential setting looking after young and vulnerable people. Peter has previously attended the Commonwealth Games in Delhi 2010 as the Strength and Conditioning Support to the athletes. Peter has also competed at National level in athletics, holds a BSc in Sports Coaching and is a UKSCA Accredited Strength & Conditioning Coach.
Administration