Officers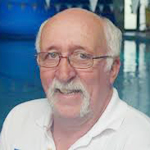 Paul du Feu – President
I'm honoured to be President of the Jersey CGA. I first got involved in Jersey's games' administration in the early 80s and coached 2 swimmers who travelled to the Brisbane games in 1982. I attended my first games as a swimming coach in 1986. Since then I've been involved in some way or another all the way through to today.
As a member of the officers' group I'm aware that the Games Movement needs to adapt and evolve to survive in today's busy programme of high profile sports' events. I feel passionately that the JERSEY team also need to be TOTALLY COMMITED to their sport showing COURAGE, striving for EXCELLENCE and going the extra mile to perform at a very high level.
As President I hope we can SUPPORT those we identify with that PASSION and see them through to a successful and enjoyable games experience.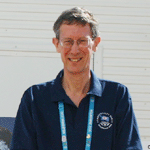 Paul Huddlestone – Secretary General
Paul is a keen lover of all sports. In his earlier years he played football and cricket extensively, which kept him very active. As his football days diminished he took up long distance running when working in Nassau in The Bahamas and has now completed 35 marathons in a number of different countries. Paul came to Jersey in the mid-eighties and when his family became involved in swimming Paul became involved in the administration side of the sport, first as Treasurer, then President of JASA. He has since now become Treasurer of JAA after undertaking a long spell as Treasurer of Jersey Spartan Athletics Club. Paul's first involvement with CGAJ was as Attache for the Manchester Games and then he became Treasurer in 2003. He has now also fulfilled the roles of General Team Manager at the Melbourne Games, the Youth Games of Bendigo Australia, Pune India, Isle of Man and Samoa and Chef de Mission at the Delhi and Glasgow Games. Paul has now taken on the role of Secretary General of CGAJ.
Graham Huelin – Treasurer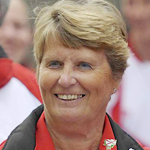 Morag Obarska – Vice President
Morag has a background as the Senior Sports Physiotherapist at JGH where she treated many of the Islands' athletes. She has been involved in a great variety of sports both playing and as a physiotherapist. She has served on several sports committees including the Island Games Association. Her direct involvement with the Commonwealth Games Association started 2007 and she attended the Melbourne, Delhi and Glasgow Games as the team physiotherapist. She was appointed as Vice President of the CGAJ in 2015 and was the General Team Manager for the 2018 Games.
Jean Cross – Vice President
Jean was very honoured and proud to be Chef de Mission for the Jersey team on the Gold Coast in 2018. A self-employed business consultant with thirty years' experience in the finance industry, and a Director of Jersey Sport, she has been involved in sport, either as a competitor or spectator, for as long as she can remember. Jean has represented Jersey in five different sports at inter-island and county level. She specialised in badminton and competed in the first two Island Games. Whilst Jean still plays badminton socially, her involvement in local sport continues as a volunteer, and supporting her children in their various sports! Elected in 2018 to Vice President, Jean is looking forward to working with the other Officers of the CGAJ, and the sports themselves, in the planning for Birmingham 2022.
Peter Irving – Athletes Representative Officer
Peter manages the Jersey Sport Foundation Performance Programme which involves providing technical support to Jersey's top level athletes. Peter also enjoys working within the other areas of the Foundation, particularly Physical Literacy, Talent Development and Coach Education.
Prior to working for the JSF, Peter spent 8 years working within the States of Jersey Children's Service working within the residential setting looking after young and vulnerable people. Peter has previously attended the Commonwealth Games in Delhi 2010 as the Strength and Conditioning Support to the athletes. Peter has also competed at National level in athletics, holds a BSc in Sports Coaching and is a UKSCA Accredited Strength & Conditioning Coach.
Administration


Sophie Symonds – Administrator
Sophie is the Administrator for the CGAJ through a partnership the Association holds with the Jersey Sport Foundation; she is the main point of contact for the athletes and Team Managers on the Commonwealth Games Performance Pathway.
Sophie has been the Coordinator of the One Foundation since January 2012 and the Jersey Sport Foundation since its inception in April 2014. Within her role, Sophie manages and undertakes all administrative aspects of the Foundations including regulatory and in house admin, financial reporting, marketing, grant reviews, athlete tracking event planning and much more!
Media
Tim Pryor – Media Relations
Tim is the Marketing and Communications Officer for the Jersey Football Association, and acts as CGAJ's point of contact for the media prior to and during the Commonwealth Games.
Tim currently freelances for local media organisations including the Jersey Evening Post, Bailiwick Express and BBC Radio Jersey, at which he was a former sports editor and presenter of the breakfast programme Good Morning Jersey. He has a first class BA (Hons) degree in Media Studies from the University of Westminster.