The Queen's Baton Relay is the traditional curtain raiser to the Commonwealth Games and has been an inclusion in the Games programme since the Cardiff Games 1958 and involves a programme of visits of the Baton to all 72 Commonwealth Countries before completing its journey with its entry into the arena for the Opening Ceremony of the Games. The Baton Relay commences from Buckingham Palace with Her Majesty Queen Elizabeth II passing the Baton to a runner from the host nation.
For the Birmingham 2022 Games the Baton is scheduled to arrive in Jersey on the evening of 9th June 2022 and stay for 2 days.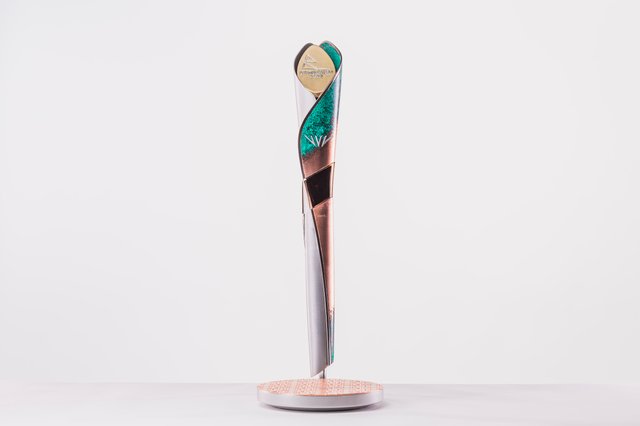 The Baton's design
Etched onto a steel plaque on the top of the Baton is the Birmingham 2022 logo, a distinctive 'B' shape which is a visual representation of communities across the West Midlands. The mechanised chamber sitting beneath the brass leaf plaque will be opened at the Birmingham 2022 opening ceremony to reveal The Queen's message.
The Commonwealth Games Federation logo is also visible on the Baton, an emblem that reflects the key values of humanity, equality and destiny.
As the Baton travels on its journey and tells stories from communities, the warm copper tones of the Baton will develop a mesmerising patina, a blue-green film that forms on the material after exposure, demonstrating how it will evolve in appearance as it is passed from Batonbearer to Batonbearer.
The Baton's technology
Enhanced with cutting-edge technologies, the Baton will capture data and stories from across the Commonwealth, shining a spotlight on grassroots innovation and celebrating the people driving change within their communities. The Baton features LED lighting and a heartrate sensor that display the heartbeats of Batonbearers. The lighting also changes when two people grip the Baton during handover, celebrating collaboration and the sharing of wisdom between young and old. In a time where human contact has been limited, the Baton addresses how connections matter more than ever.
As well as an illuminated heartbeat, the Baton also has 'lungs', consisting of atmospheric sensors with laser technology that analyses the environmental conditions wherever it is in the world. Augmented Reality (AR) will be used to creatively visualise the data captured throughout the journey to invite more awareness of and conversations around air quality across the Commonwealth. The data will contribute to the ongoing research projects being conducted by atmospheric scientist Professor Francis Pope and his team at the University of Birmingham.
Fitted with a 360-degree camera, the Baton also has 'eyes', and a 'brain' which records and transmits imagery and digital information, allowing stories from Commonwealth communities to be told. GPS technology allows the Baton to be tracked on its travels.